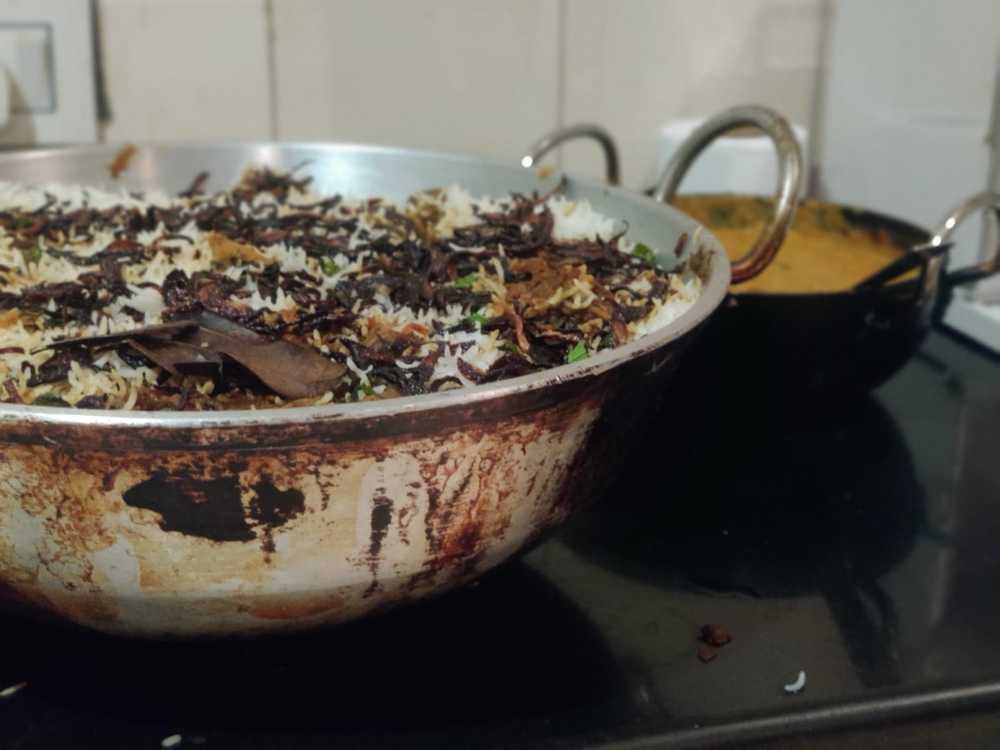 P.S. dear sahil - hope you have fun
There is exactly one trick to biryani.
Every ingredient is cooked separately first … and then cooked again together. You cannot hope to cook everything together no matter how long you try. However, if you cook stuff separately and then again together - your biryani cooking time will actually be much faster and actually taste good.
Point 2 - i dont marinate. Marination causes cooking time to be dramatically higher and i have noticed that it doesnt do shit for the final product anyway. Sue me.
Biryani (for 4 people)
Chicken thigh - this is red meat. Do not, for the love of god, buy chicken breast you asshole. 250 grams per person (remember it will shrink) Take butter or ghee. Do not use oil. Use a big pressure cooker. yup. this is important.
take 1 kg of onions. Fry the fuck out of them until they are dark brown. Do not do anything until this happens. This is the heart of the biryani. Once it is done, take out the onions in a separate container.
Then in the same pressure cooker, fry the meat in the oil. Meat will release water. Wait till it is COMPLETELY DRY AND STICKING TO THE BOTTOM. BURNING IS GOOD.
Do not proceed until all the water is dry.
If you use curd, add 2 tea cups of it at this point. Wait till its dry. alternatively use 3 cups of tomato paste. Wait till its dry.
add ginger garlic paste - atleast 3 big spoons.
add green chilli paste - as per your taste.
Add most of the fried onions. (keep some aside for garnish)
add a paste of mint + coriander (when you use coriander, USE THE STEMS. the leaves have no taste). About 1.5 tea cup total of both combined.
P.S. this is the point where you add any of your special masalas. I dont. Fuck off
add water to just sit below the meat. Pressure cook for 20 mins on high heat. Switch off. Dont fuck with it. Let the pressure release on its own.
Cut 4 large potatoes in quarters. Dont cut into small pieces.
Open pressure cooker, add the potatoes and continue to cook without the lid to dry the gravy. Make sure potatoes are fully cooked. if you have hard potatoes, add a bit of water and close the lid to cook under pressure for few minutes to soften.
In parallel, Cook rice separately until its almost done. Not fully done. Everything is done at this point.
Final assembly and oomph cook: layer rice and meat alternatively. Starting with bottom layer of rice (not meat). At the top layer of rice, sprinkle some fried onions, mint leaves, milk with kevda/saffron. Cover and cook on very low flame for about 20 mins. add some more milk or water if you can hear the bottom burning before the biryani is done.
Salan (for 4 pepple)
There is only one trick to salan - you have to use peanut butter. Grinding peanuts in your mixie is kind of not worth it.
ingredients:
Big pakora-type mirch slit in the middle or shimla mirch cut into large pieces
Peanut butter (as per the thickness you want)
coconut milk powder (powder is both cheaper and more easily adjusted)
2 onions chopped finely
bunch of curry leaves
tamarind paste (or amchur)
dry masalas: coriander powder, haldi, red chilli powder, salt.
ginger and garlic paste
Method: Fry chillies first. Burn them a little. Then add curry leaves and fry them a bit. in the same pan, add onions and fry them till cooked (but not brown). then add ginger garlic paste and fry for a bit then add dry masalas and fry quickly then add peanut butter and water (as per your consistency) then add coconut milk powder to sweeten it a bit (this is the part where ull need to taste) let it cook for 20 minutes. make sure there's enough water that the peanut butter doesnt thicken too much add tamarind paste and adjust to taste.
Remember this is a hyderabadi dish - dont be afraid to have it very spicy and sour. The biryani has to be less spicy. That's the whole fucking point.
---